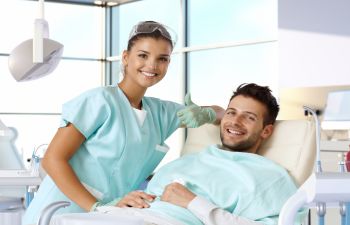 Part of choosing a good dentist is making sure the practice has adopted the latest dental technology. Today's cutting-edge dental equipment is not reserved for restorative or cosmetic procedures. There is advanced technology that can enhance your preventative dental care as well.
Ultrasonic cleaning or ultrasonic scaling can improve your professional dental cleaning experience in more ways than one. It is a tool that works by sending ultrasonic vibrations along your gum line and teeth, which blasts away dental tartar, or calculus. Tartar, or hardened plaque, cannot be removed by your routine brushing and flossing at home. The ultrasonic scaler produces sound waves that actually break apart these stubborn calculus deposits. For a more streamlined process, this tool also allows water to flow from the tip so that debris is washed away wash and the device does not overheat.
This thorough cleaning along the gum line, also known as scaling and root planing, was done by handheld metal instruments in the past. It is not uncommon for a dentist to use both traditional methods and ultrasonic technology to give your teeth and gums the best cleaning possible.
The top three benefits to choosing a dentist who offers ultrasonic cleaning includes the following:
More Comfortable: There is no metal scraping involved or other abrasive sounds and feelings
More Efficient: Ultrasonic cleaning requires less time than other scaling methods
More Effective: This advanced dental system is highly effective for cleaning plaque underneath the gum line, which can both prevent and treat gum disease. It can also reduce the appearance of tooth stains.
Taking advantage of the latest in dental technology means a more comfortable and rewarding experience, whether you are just in for a routine cleaning or a more complex dental procedure. Patients with gum disease or problems with excess plaque buildup should ask their dentist about ultrasonic scaling.
Crabapple Dental is proud to offer patients state-of-the-art dental care in a warm, inviting atmosphere. We offer ultrasonic cleanings as well as the latest cosmetic and restorative dental techniques to keep your smile looking and feeling its best.
Posted on behalf of Crabapple Dental
12670 Crabapple Road, #110
Alpharetta, GA 30004
Phone: (678) 319-0123
Email: drsarah@crabappledental.com
Monday: 7:30 AM – 4:00 PM
Tuesday: 9:00 AM – 5:00 PM
Wednesday: 7:30 AM – 4:00 PM
Thursday: 7:30 AM – 3:00 PM
Friday: 7:30 AM – 3:00 PM