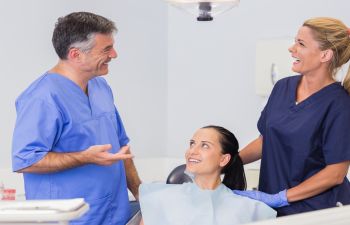 Are you unhappy with the appearance of your smile? This is no minor issue. The color, alignment and shape of your teeth can impact the way you feel about yourself as well as how others perceive you. If you have aesthetic concerns within your smile, it may be time to take action. Not sure what a smile makeover would involve or cost? A complimentary smile consult is the perfect place to start.
What is a Smile Consult?
Every smile is unique. When it comes to improving the aesthetics of your teeth, it is undoubtedly a customized process. Not only does each patient have specific imperfections, but not all patients are bothered by the same flaws. For instance, you may be okay with the slight gap between your front teeth but want to brighten the shade of your smile. Another patient may need restorative dental work, such as a filling or implants, before addressing cosmetic issues. A smile consult is a chance for you to meet one on one with a skilled cosmetic dentist to talk about your needs, goals and budget for your new smile.
Dr. Sarah Roberts of Crabapple Dental is an elite cosmetic dentist who offers a full range of procedures in one place, including porcelain veneers, teeth whitening and Invisalign ™. If your teeth are chipped, cracked, misaligned or discolored, we can greatly improve the appearance of your smile and boost your self-confidence. In addition to cosmetic dentistry, we also provide restorative dental care including crowns, bridges, tooth colored fillings and dental implants.
The Statistics Don't Lie
A cosmetic procedure of any type can be difficult to justify. However, when it comes to cosmetic dentistry, there's a significant return on your investment. Numerous studies have shown the link between an attractive smile and your emotional health, social well-being and career success.
An article from the American Academy of Orthodontics revealed some telling truths about the appearance of a smile, "48 percent of Americans ages 18-24 have untagged a picture of themselves on Facebook because they didn't like their smile. According to the study, 77 percent of women think crooked teeth are worse than a receding hairline in a potential love interest. On a professional level, 78 percent of Americans perceive adults with crooked teeth to be unsuccessful."
Book Your Free Smile Consult Today
If you are on the fence about a smile makeover or just want to see what you can expect from cosmetic dentistry, call Crabapple Dental. We are happy to set aside time with you at no additional charge!
Posted on behalf of Crabapple Dental
12670 Crabapple Road, #110
Alpharetta, GA 30004
Phone: (678) 319-0123
Email: drsarah@crabappledental.com
Monday: 7:30 AM – 4:00 PM
Tuesday: 9:00 AM – 5:00 PM
Wednesday: 7:30 AM – 4:00 PM
Thursday: 7:30 AM – 3:00 PM
Friday: 7:30 AM – 3:00 PM