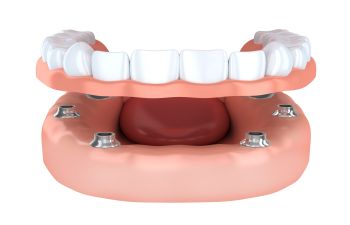 Dental implants have changed the face of modern dentistry. They deliver the ability to replace one tooth or a full mouth of missing teeth in a way that closely mimics your natural teeth. Just like other fields of dentistry, implant dentistry has experienced significant advancements since its beginning. One of the most groundbreaking discoveries are All-on-4 dental implants, otherwise known as "same day teeth."
What Makes All-on-4 Unique?
Unlike other tooth replacement methods that use dental implants, the All-on-4 treatment concept relies on just four dental implants to secure a full arch of upper or lower teeth. Best of all, patients can get their new smile the same day as their oral surgery.
When to Choose All-on-4 Dental Implants?
While "teeth in a day" are not ideal for every patient, they are an excellent solution for many. If you need to replace a full arch of teeth, it is worth considering All-on-4 implants for the following reasons:
Reduced Time in the Dental Chair
Instead of multiple visits that may be required for traditional implants, All-on-4 implants can typically be placed in a matter of hours!
Less Jaw Bone Mass Required
All-on-4 implants are slightly shorter than traditional implants, and they are placed at an angle within the jaw. This means that less bone density and height is needed to secure the implants in place. This is ideal for patients who may have lost bone in their jaw due to missing teeth and would otherwise need a bone grafting procedure.
Quicker Recovery
This same-day teeth replacement involves a minimally-invasive surgery that results in a quicker and more comfortable recovery period for patients.
No Waiting For Replacement Teeth
Missing teeth can be a serious threat to your self-confidence as well as your ability to eat and speak. The leading benefit of All-on-4 dental implants is that patients don't have to undergo restorative treatment over the course of many weeks or months. Instead, the entire process is consolidated into one visit, and you can leave the office with a beautiful set of teeth!
Ready to learn more about your candidacy for teeth-in-a-day? Call Crabapple Dental. We love giving patients a convenient and affordable solution when replacing missing teeth!
Posted on behalf of Crabapple Dental
12670 Crabapple Road, #110
Alpharetta, GA 30004
Phone: (678) 319-0123
Email: drsarah@crabappledental.com
Monday: 7:30 AM – 4:00 PM
Tuesday: 9:00 AM – 5:00 PM
Wednesday: 7:30 AM – 4:00 PM
Thursday: 7:30 AM – 3:00 PM
Friday: 7:30 AM – 3:00 PM