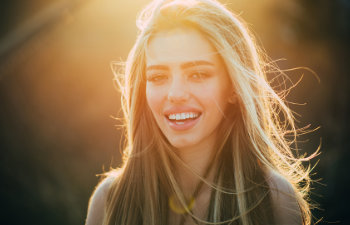 At Crabapple Dental, we are among an elite group of dental practices that offer biological dentistry to our patients in Milton. Dr. Christian Hahn is a Biological Cosmetic Dentist who embraces new techniques and a conservative, natural approach to dental care for the sake of your smile and your overall well-being. What sets a biological dentist apart from other dentists? Should you consider a biological dentist for your personal dental care? Here is some insight to help you make the most informed decision.
What is Biological Dentistry?
Biological dentistry, also known as holistic dentistry, is an approach to dental care that considers the impact of dental treatments and materials on the overall health of the body. It seeks to promote dental health in a way that supports the natural healing mechanisms of the body, and to avoid the use of potentially harmful or toxic materials and procedures.
Biological dentists focus on treating the underlying causes of dental problems, rather than just the symptoms. They take into account factors such as nutrition, lifestyle, and environmental factors, and use biocompatible materials that are less likely to cause an allergic or toxic reaction.
What to Expect from a Biological Dentist?
At Crabapple Dental, we value the importance of explaining the approach of a biological dentist. When caring for your smile, you can expect Dr. Hahn to use the following principles of biological dentistry include:
Minimizing the use of dental materials that may contain mercury, such as amalgam fillings, and using alternative materials that are more biocompatible, such as porcelain or composite resin.
Avoiding the use of fluoride in dental treatments, as it can be toxic in large doses.
Treating gum disease and other dental problems using non-surgical methods whenever possible.
Using digital x-rays and other low-radiation imaging techniques to minimize exposure to radiation.
Promoting overall health and wellness through nutrition, lifestyle changes, and other holistic approaches.
Who Should Use a Biological Dentist?
Anyone who is concerned about the potential health effects of dental treatments and materials may benefit from seeing a biological dentist. However, there are some specific groups of people who may be particularly interested in this approach to dental care. These include:
Individuals with Environmental Sensitivities or Allergies
Biological dentists may be better able to identify and avoid materials that may cause an allergic or toxic reaction in individuals who are sensitive to certain chemicals or substances.
Pregnant Women
Biological dentists may be more cautious about the use of certain dental treatments and materials that may pose a risk to developing fetuses.
Individuals with Autoimmune Disorders
Some autoimmune disorders are thought to be triggered or exacerbated by environmental factors, including dental materials. Biological dentists may be able to provide a more holistic approach to dental care that takes into account the impact of dental treatments on overall health.
Individuals with Chronic Health Conditions
Biological dentists may work closely with other healthcare providers to develop a comprehensive treatment plan that supports overall health and wellness.
Contact a Trusted Biological Cosmetic Dentist in Milton
The decision to see a biological dentist is a personal one, and should be based on your individual needs and preferences. If you are interested in exploring biological dentistry, we invite you to meet Dr. Hahn at Crabapple Dental. He is a qualified biological cosmetic dentist who is experienced in this unique approach to dental care.
Posted on behalf of Crabapple Dental
12670 Crabapple Road, #110
Alpharetta, GA 30004
Phone: (678) 319-0123
Email: drsarah@crabappledental.com
Monday: 7:30 AM – 4:00 PM
Tuesday: 9:00 AM – 5:00 PM
Wednesday: 7:30 AM – 4:00 PM
Thursday: 7:30 AM – 3:00 PM
Friday: 7:30 AM – 3:00 PM