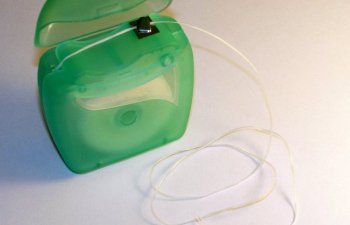 Plaque is a thick substance that can develop in different places throughout the body. It is a thick buildup that causes damage wherever it occurs, thus making it dangerous to your health. Plaque that develops in the arteries can hinder blood flow to and from the heart, and plaque that develops inside the mouth can wreak havoc on your entire oral health. Dental plaque is a microbial biofilm that can be found on all surfaces within the mouth. If you have ever run your tongue over your teeth or the inside of your cheeks at the end of the day and felt a fuzzy film, then you have come in contact with plaque. It is also the white stuff that is on dental floss when you floss your teeth. Plaque causes a great deal of damage if it is not removed on a daily basis from the teeth, and it should never be overlooked.
Plaque accumulates on the teeth every time you eat or drink anything other than water. There are millions of bacteria within the human mouth, and these bacteria thrive off of the food particles and sugars left behind after a meal or a snack. Plaque is essentially caused by a chemical reaction from bacteria reacting to foods. As the bacteria congregate around tiny food particles and sugars, they begin producing acids to break down these substances. Acids are incredibly dangerous in any situation because they eat through whatever is in their path. When acids occur in the mouth, they begin eating through the tooth enamel and gum tissues – causing extreme damage to occur.
Plaque needs to be removed from the teeth on a daily basis in order to prevent damage. Dental floss is specifically created to slide under plaque and scrape it away from the teeth and from the tight spaces between the teeth. Toothbrushes are not designed to do this, which makes floss and even greater tool than your toothbrush. Plaque that is not removed on a daily basis will develop in greater quantities and will harden into tartar. This leaves the teeth incredibly vulnerable because of the constant assault of acid damage.
At Crabapple Dental, Dr. Sarah Roberts understands the damaging effects of plaque. Through regular cleanings and dental visits, plaque is able to be removed from the teeth. If you hate having your teeth scraped at dental visits, flossing on a daily basis is the best way to prevent it. Regularly removing plaque at home will save you from enduring it at the dentist's office!
Posted on behalf of Crabapple Dental
12670 Crabapple Road, #110
Alpharetta, GA 30004
Phone: (678) 319-0123
Email: drsarah@crabappledental.com
Monday: 7:30 AM – 4:00 PM
Tuesday: 9:00 AM – 5:00 PM
Wednesday: 7:30 AM – 4:00 PM
Thursday: 7:30 AM – 3:00 PM
Friday: 7:30 AM – 3:00 PM