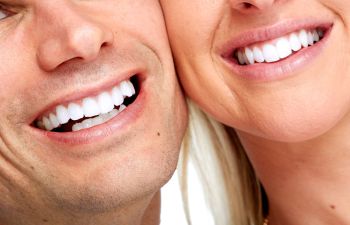 Porcelain veneers can be a life-changing investment in cosmetic dentistry. They are an excellent solution for those who want to instantly and dramatically improve their smile. Veneers can correct the appearance of a host of aesthetic flaws, ranging from gaps and discoloration to chips and crooked teeth.
Your veneers will only take 2-3 short office visits. While veneers are considered a painless and minimally-invasive procedure, they require a very small portion of the front tooth surface be shaved off in order for the wafer-thin shells of porcelain to adhere or bond to your teeth.
What Happens at Home?
While you may be prepared for what will happen during your dental veneers procedure, here is a glance of what you can expect when you get home.
The Immediate
It is not uncommon for patients to experience some tooth sensitivity to hot and cold for the first few days after getting veneers. This is due to the fact that approximately 0.5mm of your tooth enamel was removed. Rest assured that this discomfort will dissipate soon.
In addition, while the porcelain shells are only as thick as a contact lens, it may take some getting used to. Your front teeth may feel different in texture against your tongue or when you talk. Overall, porcelain veneers are considered a very comfortable and adaptable cosmetic dentistry choice.
The Near Future
About a week after you get your porcelain veneers put on, you will be scheduled to come back to the dental office for a checkup. While you may feel confident in your veneers, this appointment is still very important. It allows us to check the gum tissues around your veneers and make sure there is no irritation or other complications.
The Long-term
Veneers can last from seven years to twenty years. If you have changes to your tooth structure underneath or changes in the surrounding gum tissues (recession, etc), then you may need to have your veneers checked. These are situations that may cause your veneers to become loose and need rebonding.
You should care for your veneers just like you would your natural teeth, which includes routine brushing and flossing, visiting us for regular checkups and not using your teeth as tools.  Remember that while the veneer itself is resistant to decay and staining, the tooth underneath your veneer is still absolutely susceptible to cavities and other problems.
Want to learn more about veneers? Curious if porcelain veneers are right for you? Call Crabapple Dental today. We offer outstanding results in cosmetic dentistry!
Posted on behalf of Crabapple Dental
12670 Crabapple Road, #110
Alpharetta, GA 30004
Phone: (678) 319-0123
Email: drsarah@crabappledental.com
Monday: 7:30 AM – 4:00 PM
Tuesday: 9:00 AM – 5:00 PM
Wednesday: 7:30 AM – 4:00 PM
Thursday: 7:30 AM – 3:00 PM
Friday: 7:30 AM – 3:00 PM