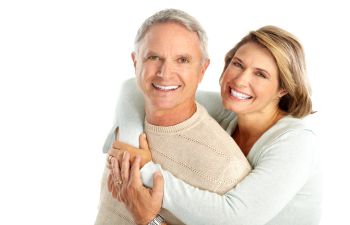 Does the sound of a "full mouth reconstruction" intimidate you? While this can one of the most complex treatments in dentistry, a full mouth reconstruction can also be life-changing for those who need it. Unlike a smile makeover, a full mouth reconstruction is designed to improve both the function and appearance of your teeth. It often involves a series of procedures to repair or rebuild your teeth and gums in a way that creates a beautiful and balanced new smile.
The Diversity of Full Mouth Reconstruction
A full mouth reconstruction looks different for each patient. It may involve one procedure or a series of office visits depending on the unique condition and concerns of the patient's mouth. Some patients get dental crowns to restore damaged teeth while others get dental implants to replace missing teeth. A full mouth reconstruction may also include services ranging from teeth whitening and orthodontics to dental fillings, soft tissue grafting and bonding. Your dentist will recommend a specific series of procedures to address your needs best.
An initial consultation and detailed x-rays with your dentist are important so that you can gain a full understanding about what you can personally expect during your full mouth reconstruction. Be prepared to answer questions about your complete medical history so that your dentist can evaluate how you will respond to the procedures.
The Return on Your Investment
It is perfectly normal to feel hesitant about undergoing a full mouth reconstruction, as it can involve significant expense and time. However, the reward of a full mouth reconstruction is invaluable. This comprehensive dental treatment is intended to give you permanent improvement to the way your teeth feel, function and look.
Think your dental problems are too vast or complex to be fixed? Call Crabapple Dental. We are known for excellence in cosmetic and restorative dentistry to ensure you full mouth reconstruction surpasses your expectations.
Posted on behalf of Crabapple Dental
12670 Crabapple Road, #110
Alpharetta, GA 30004
Phone: (678) 319-0123
Email: drsarah@crabappledental.com
Monday: 7:30 AM – 4:00 PM
Tuesday: 9:00 AM – 5:00 PM
Wednesday: 7:30 AM – 4:00 PM
Thursday: 7:30 AM – 3:00 PM
Friday: 7:30 AM – 3:00 PM