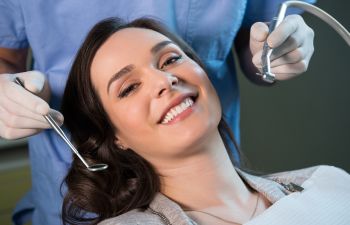 A surprising number of Americans neglect to give their smile the professional attention it deserves. Whether it is avoiding routine dental visits or putting off restorative or cosmetic dental procedures, what is holding you back? We've compiled the top reasons why people avoid the dentist. Acknowledging these obstacles has helped us to develop a practice that addresses each of these concerns and allows all types of patients to get the dental treatments they need for optimal health and confidence.
Cost
In recent reports, cost is the primary reason who patients don't respond to their appointment reminder cards. There is no arguing the fact that dental care can be expensive. Many families have opted out of dental insurance to protect their yearly budgets. Fortunately, this doesn't mean you have to cancel your dental visits. Our office provides flexible payment options and monthly financing plans like CareCredit. If cost is a burden, explore your options!
Dental anxiety
Dental anxiety or dental phobia affects both adults and kids. It is a very real condition. While it can be triggered from a bad experience in the past or your fear of pain or needles, there are ways we can address your dental anxiety. In fact, today's dentistry can feel more like a trip to the spa than the dentist. Not only do we offer soothing amenities to reduce your stress, but we can also administer sedation dentistry – a perfect solution if you keep canceling your dental appointment due to anxiety.
Guilt or Embarrassment
Perhaps it has been awhile since your last dental cleaning, or you have a smoking habit that has clearly left its mark on your smile. This can make people hesitant to visit the dentist due to embarrassment or the fear that they'll be lectured for their poor dental health. At Dentistry of Highland Village, we never want you to feel ashamed of the condition of your smile. While we may recommend some restorative work to get your smile back in shape, we always present your treatment options using a non-judgmental and non-threatening approach. We're just glad you came to see us!
Safety
Going to the dentist during a pandemic may seem scary. However, our team at Crabapple Dental has gone above and beyond to ensure you have a safe and worry-free experience. To limit the spread of germs that may enter the office we employed multiple layers of defense, ranging from temperature checks for each patient to advanced air filtration systems and sanitizing technology.
Convenience
Life is busy; we get it. Whether your work schedule is tying you down or your kids have countless activities after school, it can be difficult to fit routine dental care into your busy calendar. Don't worry – we make it easy at Crabapple Dental. We offer early morning appointments and family block scheduling.
What is your excuse for not going to the dentist like you should? We hope we are a dental practice that eliminates your excuses, obstacles and concerns regarding professional dental care. Call Crabapple Dental today and start saying "yes" to your smile!
Posted on behalf of Crabapple Dental
12670 Crabapple Road, #110
Alpharetta, GA 30004
Phone: (678) 319-0123
Email: drsarah@crabappledental.com
Monday: 7:30 AM – 4:00 PM
Tuesday: 9:00 AM – 5:00 PM
Wednesday: 7:30 AM – 4:00 PM
Thursday: 7:30 AM – 3:00 PM
Friday: 7:30 AM – 3:00 PM