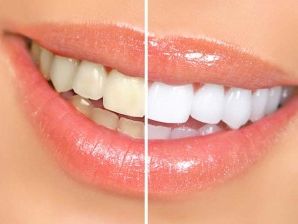 Tooth whitening is a procedure that is done to lighten the teeth to remove stains and discoloration. It is the most popular cosmetic dental procedure done in the United States, and it is one of the easiest ways to achieve a stunning, beautiful smile. While there are a number of at-home tooth whitening products on the market, to achieve a truly radiantly white smile you will want to visit your dentist's office for a professionally administered whitening procedure.
There are many different reasons why the teeth become yellowed, discolored, or stained. Of course, the most common causes of discolored teeth are smoking and/or drinking dark beverages such as coffee, tea, or soft drinks. These substances leave behind evidence of their dark coloring because they seep into tiny holes in the tooth enamel and stain the teeth. Age is also a factor that affects the color of the teeth. Teeth naturally take on a yellow hue as people grow older. Because genetics play a role in how yellow the teeth will turn, even those who have never smoked or do not regularly drink dark beverages can still find that they have a dull smile as they age.
Teeth whitening uses specific ingredients to lift stains from the enamel of the teeth, leaving them white and lustrous. An in-office professional teeth whitening procedure typically takes 30-90 minutes and can dramatically lighten the teeth up to ten shades. Because a dentist observes the entire procedure, much stronger ingredients are used in-office than through an over the counter product. An in-office whitening procedure is one of the most highly touted cosmetic procedures for producing fast and dramatic results. Even those with imperfect or mildly misaligned teeth find that by whitening their teeth, they can transform their smiles.
If you are here in the Alpharetta area and are interested in achieving a radiantly white and beautiful smile, please contact Crabapple Dental today. We offer safe and effective teeth whitening procedures to help you feel confident in your smile.
Posted on behalf of Crabapple Dental
12670 Crabapple Road, #110
Alpharetta, GA 30004
Phone: (678) 319-0123
Email: drsarah@crabappledental.com
Monday: 7:30 AM – 4:00 PM
Tuesday: 9:00 AM – 5:00 PM
Wednesday: 7:30 AM – 4:00 PM
Thursday: 7:30 AM – 3:00 PM
Friday: 7:30 AM – 3:00 PM