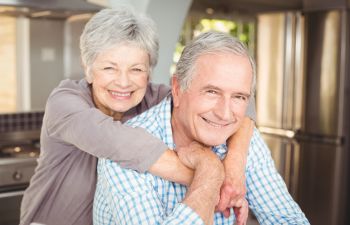 It's understandable to be concerned about the materials you are putting into your body. When it comes to dental implants that will be permanently inserted into the jaw bone, many patients want the least reactive and least toxic material possible. In such cases, zirconia dental implants can be chosen over traditional titanium implants.
As with any alternative dental material, there are benefits and risks to having zirconia implants. Zirconia dental implants were introduced in 1987, compared to the time-tested emergence of titanium implants in 1960. However, zirconia has gained increasing attention for health-conscious patients and those who value biomimetic or holistic dentistry. Zirconia dental implants are considered a non-metal alternative to titanium implants. While newer to the market, Zirconia is a white ceramic material that is reported to be superior in soft-tissue response, biocompatibility and aesthetics compared to titanium implants.
Benefits of Zirconia Dental Implants
The following are some of the leading advantages of choosing zirconia implants over titanium:
Aesthetics – a tooth-colored implant that doesn't show through the gums like darker titanium implants can in certain situations.
Allergy-Free – while titanium metal allergy is rare, the risk can be completely eliminated by choosing non-metal zirconia.
Less Plaque Buildup – studies suggest lower amounts of plaque formation and infections around zirconia implants.
Corrosion Resistance – zirconia is a poor electrical and thermal conductor, so there is no concern of corrosion.
Are Zirconia Implants Right For You?
At Crabapple Dental, we are proud to offer zirconia dental implants as part of our commitment to biomimetic dentistry. If you are concerned about titanium implants and want to learn more about the most popular non-metal alternative for your teeth replacement needs, please call our Alpharetta office today.
Posted on behalf of Crabapple Dental
12670 Crabapple Road, #110
Alpharetta, GA 30004
Phone: (678) 319-0123
Email: drsarah@crabappledental.com
Monday: 7:30 AM – 4:00 PM
Tuesday: 9:00 AM – 5:00 PM
Wednesday: 7:30 AM – 4:00 PM
Thursday: 7:30 AM – 3:00 PM
Friday: 7:30 AM – 3:00 PM