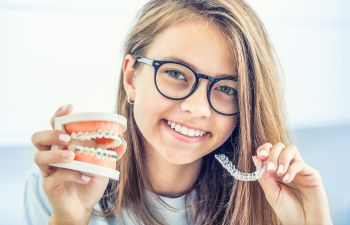 If your teen has crowded, crooked or gapped teeth and needs orthodontic treatment, getting traditional braces may not be a solution they welcome. Advanced options like Invisalign Teen can appease the reluctant (or stubborn) teenager who needs orthodontic treatment but refuses metal brackets and wires. Invisalign Teen is not only comfortable and convenient, but it is virtually invisible to others – like their new crush in high school.
At Crabapple Dental, we understand how difficult the teenage years can be. Getting metal braces can only provide additional challenges. With Invisalign, it may not be a battle you have to fight. We are proud to offer Teen Invisible Braces in Alpharetta as a great alternative to traditional metal brackets and bands.
Invisalign braces for teens delivers significant advantages over traditional braces including:
Virtually "invisible" appearance without brackets, bands or wires
Less office visits to work in
A typically pain-free treatment that includes a series of comfortable, custom-fit aligner trays
Removable aligners for eating, brushing and flossing, allowing teens to avoid teeth staining or poor hygiene that is common during traditional braces
Freedom to eat crunchy, sticky or hard-to-chew foods
No disruption when playing an instrument or smiling for yearbook photos
How Does Invisalign Work?
Each Invisalign Teen aligner tray, provided every two weeks, will slowly and carefully adjust the teeth and transform your teen's smile into an ideal position. Temporary soreness may be felt at first as your teeth adjust to each aligner set.
While not every case is ideal for Invisalign, this invisible and preferred orthodontic treatment system can address common concerns such as crowding, crooked teeth, wide spaces, under bites, overbites and cross bites. The best part – you don't have to make your child sacrifice their appearance and self-confidence in the process.
To learn more about Invisalign Teen from a trusted provider in Alpharetta, please call Crabapple Dental.
Posted on behalf of Crabapple Dental
12670 Crabapple Road, #110
Alpharetta, GA 30004
Phone: (678) 319-0123
Email: drsarah@crabappledental.com
Monday: 7:30 AM – 4:00 PM
Tuesday: 9:00 AM – 5:00 PM
Wednesday: 7:30 AM – 4:00 PM
Thursday: 7:30 AM – 3:00 PM
Friday: 7:30 AM – 3:00 PM