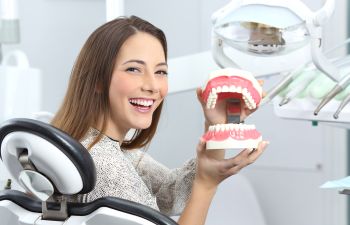 According to the International Academy of Biological Dentistry & Medicine, a biological dentist understands that the mouth and body are connected and that illness or disease that occurs inside the body is reflected orally and vice versa. The idea of biological or holistic dentistry is becoming more and more popular as patients gravitate towards minimally-invasive and chemical-free treatments for their health.
A biological dentist has undergone the same training and earned the same credentials as a traditional dentist. However, a holistic dentist offers the additional focus on diagnosing, preventing, treating and maintaining oral health using natural therapies. You can expect a biological dentist to evaluate s a patient's entire state of physical and emotional health before deciding on treatments. This may include a consideration of factors such as your stress, diet and sleep patterns, as these all can have a direct influence on oral inflammation and disease.
Reasons to Seek a Biological Dentist
A natural, conservative and minimally-invasive approach to dental care is the hallmark advantages of a biological dentist. However, there are numerous benefits to holistic dentistry and reasons why a patient may prefer a biological dentist:
Treats the whole person
Addresses cause of problem, not just symptoms
Uses safe, non-toxic and bio-compatible dental materials
No use of mercury in fillings and no exposure when removing amalgam fillings
Seeks alternatives to root canal therapy
Values non-surgical, less invasive treatment options ("drill less" dentistry)
Aims to educate patients
Uses low radiation digital x-rays
To learn more about the differences between a traditional dentist and a biological dentist, please contact Crabapple Dental. If you desire a more natural and conservative approach to your dental care plan, consider our very own skilled Biological Cosmetic dentist Dr. Christian Hahn. Our goal is to help patients achieve optimal oral health and overall health in the safest and most comfortable ways possible!
Posted on behalf of Crabapple Dental
12670 Crabapple Road, #110
Alpharetta, GA 30004
Phone: (678) 319-0123
Email: drsarah@crabappledental.com
Monday: 7:30 AM – 4:00 PM
Tuesday: 9:00 AM – 5:00 PM
Wednesday: 7:30 AM – 4:00 PM
Thursday: 7:30 AM – 3:00 PM
Friday: 7:30 AM – 3:00 PM